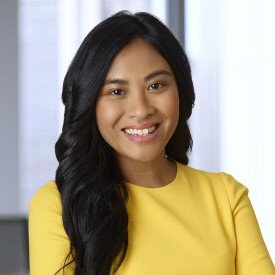 Partner
Law office of Burnet, Duckworth & Palmer, Calgary, AB (Alberta), CA (Canada)
ADR Certified Designation : FCIArb
VanIAC Panel(s) : Expedited Procedures Arbitrator
Practice Areas : Construction, Corporate Commercial, Energy, Government, Life Sciences (Biotech, Pharma & Medical Devices), Mergers, Acquisitions, and Joint Ventures, Partnership and Shareholder, Real Estate, Securities, Technology
Professional Experience
Joanne Luu has a decade of experience in commercial and corporate dispute resolution. Her practice focuses on complex and high stakes disputes, and is broad in subject matter, including commercial, corporate and shareholder, securities, energy and natural resources, joint venture, construction, telecommunications, licensing agreements, manufacturing and distribution matters.
Joanne has experience in numerous arbitration hearings seated in Canada and abroad. She has also appeared in court proceedings, including at the trial and appellate level, and before the Alberta Securities Commission. She sees real value, and has demonstrated experience, in running efficient and fair proceedings.
To complement her dispute resolution practice, Joanne regularly works with her corporate solicitor colleagues to draft arbitration clauses and advise on transactions, corporate governance and other commercial issues to pre-empt disputes.
Joanne is recognized as a leader in her field by Legal 500 Canada, Who's Who Legal: Arbitration Best Lawyers in Canada. Prior to joining BD&P, she clerked at the Alberta Court of Appeal under the Honourable Mr. Justice F.F. Slatter. She also worked at the Canadian Department of Foreign Affairs and International Trade dealing with trade policy.
Dispute Resolution Experience and Training
Joanne is qualified as a Fellow of the Institute of Arbitrators based in London. She has been invited to speak at various conferences and panels related to arbitration, contracts, insider trading and blockchain.
She has co-authored book chapters in arbitration textbooks:
• "Provisional Remedies and Interim Relief in Oil & Gas Arbitrations" in The Leading Practitioners' Guide to Oil & Gas Arbitrations, edited by James M. Gaitis (Huntington, NY: Juris Publishing, Inc., 2015).
• "Canada" in Arbitration World, edited by Karyl Nairn Q.C. & Patrick Heneghan (London: Sweet & Maxwell, 2015 & 2018)
Professional and Other Activities
Joanne is a recognized as a leader in her field, named by:
• Legal 500 Canada as a Rising Star in Dispute Resolution, 2020 and 2021
• Who's Who Legal: Arbitration as a Future Leader, 2021
• Best Lawyers in Canada for her work in Corporate and Commercial Litigation, 2021
She is a member of the following arbitral organizations:
• Chartered Institute of Arbitrators, Fellow
• ICC Canada – Committee Member, Co-Chair of national conferences for 2019 and 2020
• Young Canadian Arbitration Practitioners (YCAP) – Advisory Board Member, Co-Chair of Policy and Advocacy Committee, Executive and Board Member for 2016-2020
• ICC Young Arbitrators Forum North American Representative
Academic Qualifications
JD, University of Calgary, 2011, with an exchange to the University of Copenhagen focusing on European and international law
BASc (honours with distinction), double major in biology and political science, University of Lethbridge, 2011